Back to Blog
Aussie! Aussie! Aussie! Gift cards are here.
Posted by Eric Kryski on May 6th, 2019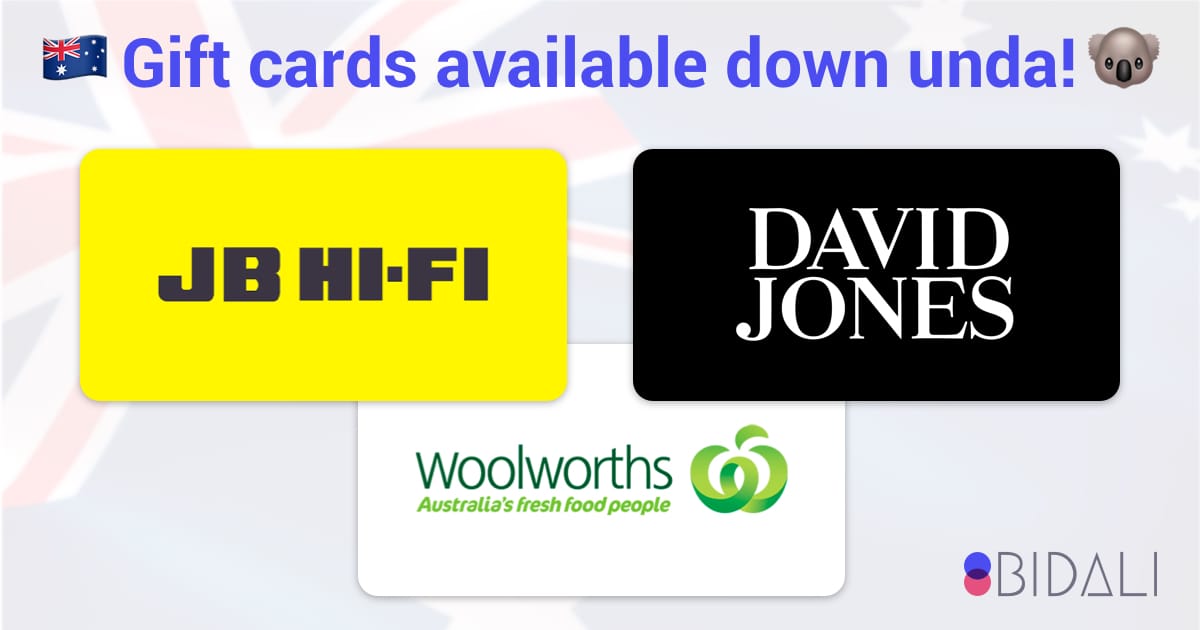 For those of you that visit our gift card store you may have noticed that we added Australia gift cards a couple weeks ago. Now that we've had a chance to test them out we're super pumped to officially announce it.
For those of you down is Aus-land, you can now buy gift cards from brands like Hotels.com, JB Hifi, Woolworths, David Jones, Myer, Ticketmaster and more! Allowing you to do everything from travel, to going out with friends, to buying groceries.
With support for over 50 different digital currencies like Bitcoin, Ether, Litecoin, Dash, Tron and others, this is a great start towards allowing Australian residents the ability to live their life using crypto.
If you decide to do something crazy with your crypto tweet at us. We love hearing about what you get up to.
We are aggressively adding to our catalog so stay tuned for more brand announcements! 🙌
Until next time. G'day mate.
Eric & The Bidali Team
---
Are You an Innovative Business?
With Bidali you can offer cutting edge payment options, gift cards, and flexible incentive programs to customers all over the world. Using blockchain technology and artificial intelligence we eliminate fraud and high fees, reduce compliance costs and accounting headaches, while enabling businesses to reach customers all over the world. Sign up here to increase your online sales!
Unlock The Value of Your Crypto!
If you are looking for ways to spend your cryptocurrency you can use our e-commerce store to quickly convert it to gift cards and phone top ups at over 1,000 top brands around the world!
Are You a Wallet, Exchange or News Site?
We have over a dozen integration partners already working on integrating the new Commerce SDK to enable their users to spend directly from their platform. If you would like to encourage authentic adoption of cryptocurrency and earn money for purchases made by your users, partner with us.