Back to Blog
Stable USD is now supported!
Posted by Eric Kryski on May 13th, 2019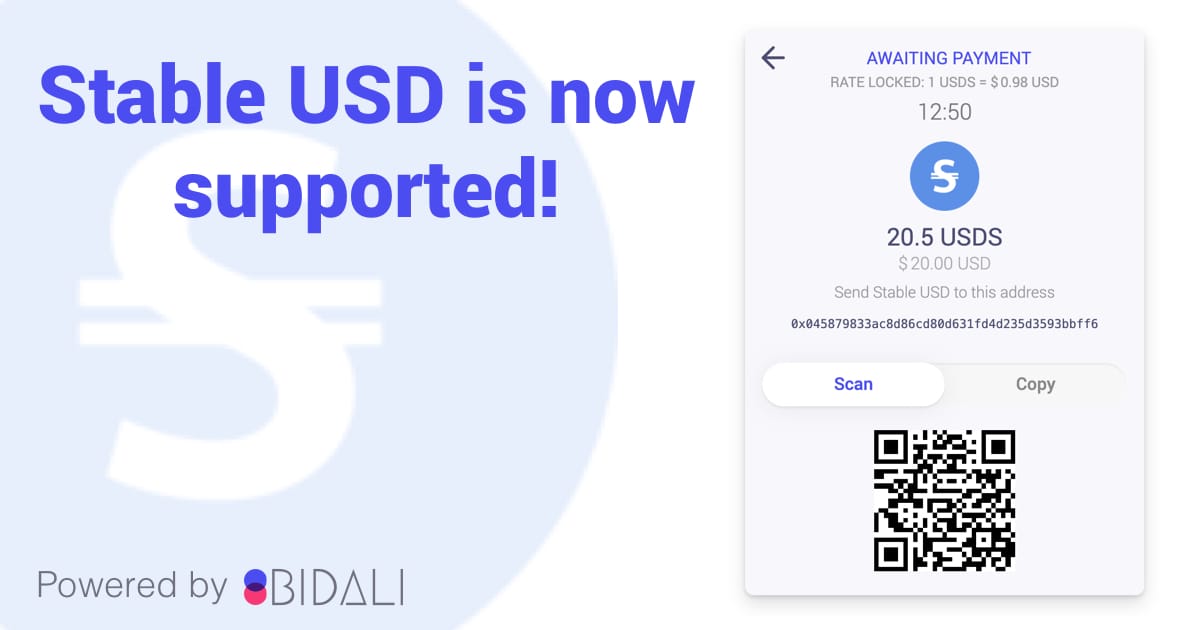 In light of NYC Blockchain Week, we're dubbing this week "Stablecoin Week". Stablecoins have been the new hot topic the last year or so. They have exploded
To kick it off, we're excited to officially announce support for Stably's Stable USD as a payment method on our payments platform and our gift card service.
Starting today you can use your StableUSD to buy gift cards from over 150 top brands such as Amazon, Uber, Dominos through our gift card platform!
In addition to being able to buy gift cards with StableUSD, now any online merchant will be able to utilize our online payment and accounting software to accept this USD stablecoin with ease. Online retailers that accept USDS and other cryptocurrency through our payment platform have the option of being paid out in StableUSD for less than half the price of PayPal and Stripe. Of course, merchants can also be paid out in their local fiat currency including USD, CAD, Euro, and GBP and in either case have their taxes and conversion rates automatically calculated.
What is a Stablecoin?
In essence a stablecoin is a cryptocurrency that brings the benefits of programmable money but without the volatility that has plagued cryptocurrencies to date. They tend to fall into 3 different classifications:
1. Fiat backed.
Fiat backed stablecoins are where a custodian is holding fiat collateral in USD, CAD, EUR, etc. one-for-one to the stablecoin (ideally). These are effectively digital dollars that are a great step towards unlocking the benefits that come along with cryptocurrency - programmable money, easier to transfer, lower fees, faster.
2. Asset backed.
These are stablecoins that may be backed by another asset such as precious metals, real-estate, other monetary instruments, etc. The intention is to have their value pegged to a fiat currency based on the price of the underlying collateral.
3. Algorithmic.
These are the most experimental stablecoins but the most innovative. The idea here is that you use fancy math - inflation rates, collateral ratios and interest rates to control supply and demand to keep the stablecoin pegged to a stable value (in most cases USD). This is more or less how government fiat money is controlled. However, the difference here is software (ie. smart contracts) and the participants in the network control these variables instead of high paid politicians. The best example of this is Maker's DAI.
Who is Stably?
Stably is a company based out of Seattle that created the StableUSD stablecoin with the intention of making global commerce more efficient. This is very much aligned with our mission.
StableUSD falls into the first category of stablecoins and is a digital US dollar. It's a piece of our future vision for a frictionless, global economy, where all assets can move anywhere instantaneously, 24/7.
That was a brief intro to stablecoins. Hopefully this gives a hint as to where we are going with Bidali. We're super excited to be working with the Stably team on making stablecoins more accessible. 🙌
Until next time,
Eric & The Bidali Team
---
Are You an Innovative Business?
With Bidali you can offer cutting edge payment options, gift cards, and flexible incentive programs to customers all over the world. Using blockchain technology and artificial intelligence we eliminate fraud and high fees, reduce compliance costs and accounting headaches, while enabling businesses to reach customers all over the world. Sign up here to increase your online sales!
Unlock The Value of Your Crypto!
If you are looking for ways to spend your cryptocurrency you can use our e-commerce store to quickly convert it to gift cards and phone top ups at over 1,000 top brands around the world!
Are You a Wallet, Exchange or News Site?
We have over a dozen integration partners already working on integrating the new Commerce SDK to enable their users to spend directly from their platform. If you would like to encourage authentic adoption of cryptocurrency and earn money for purchases made by your users, partner with us.