Back to Blog
Paying with Paxos USD
Posted by Eric Kryski on May 14th, 2019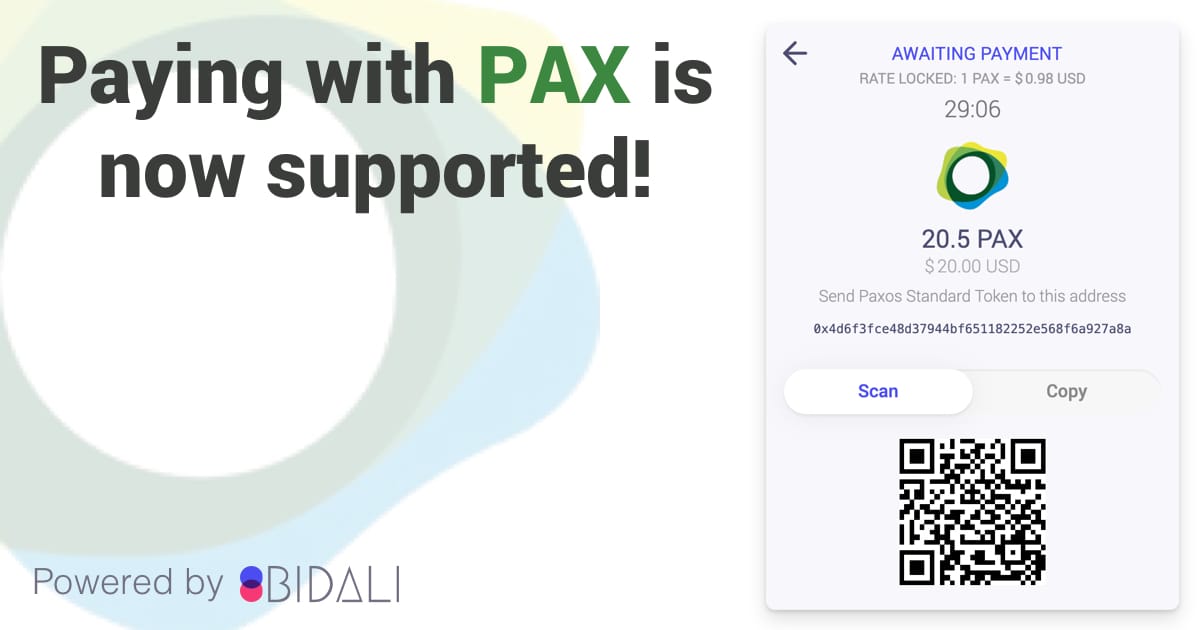 Keeping "Stablecoin Week" rolling, we're excited to officially announce support for Paxos USD stablecoin as a payment method on our payments platform and our gift card service.
Starting today you can use your Paxos stablecoins to buy gift cards from over 150 top brands such as Amazon, Ebay, Uber through our gift card platform!
In addition to being able to buy gift cards with PAX, now any online merchant will be able to utilize our online payment and accounting software to accept this USD stablecoin with ease. Online retailers that accept Paxos and other cryptocurrency through our payment platform have the option of being paid out in Paxos USD for less than half the price of PayPal and Stripe. Of course, merchants can also be paid out in their local fiat currency including USD, CAD, Euro, and GBP and in either case have their taxes and conversion rates automatically calculated.
What is Paxos and why this is awesome
Paxos is a company based out of New York that created the Paxos Standard USD stablecoin with the intention of making it easier, faster and cheaper to move money around the world. This is very much aligned with our mission of bringing down barriers to global commerce.
PAX falls into the category of fiat backed stablecoins and is essentially a digital US dollar. Like other crypto assets, it can move instantaneously, anywhere in the world, any time of any day, and it is programmable. Unlike many other crypto assets, PAX is stable. It is backed 1:1 for the dollar and it's issued by the Paxos Trust Company, so the funds are carefully protected, audited and regulated.
Supporting multiple stablecoins, including PAX, is key piece of our future vision for a frictionless, global economy, where all assets can move anywhere instantaneously, 24/7. We're super excited to be working with the Paxos team on making stablecoins more accessible.
Until next time,
Eric & The Bidali Team
---
Unlock The Value of Your Crypto!
If you are looking for ways to off-ramp your crypto you can use our new crypto spending service to quickly convert your cryptocurrency to gift cards, phone top ups and pay bills at over 800 top brands around the world!
Are You a Wallet, Exchange or News Site?
We have over a dozen integration partners already working on integrating the new Commerce SDK. If you would like to encourage real adoption of crypto and earn money for purchases made by your users give us a holler.
Do You Sell Things?
Bidali enables merchants to sell products and services to anyone in the world for a fraction of the cost - without chargebacks, tax headaches, high exchange fees, and volatility risk. Now your customer base is only limited to where you can ship. If you want to give your customers the option to pay using next generation payment methods you can sign up here.