Back to Blog
Happy HoliDAIs from Maker and Bidali
Posted by Eric Kryski on December 23rd, 2019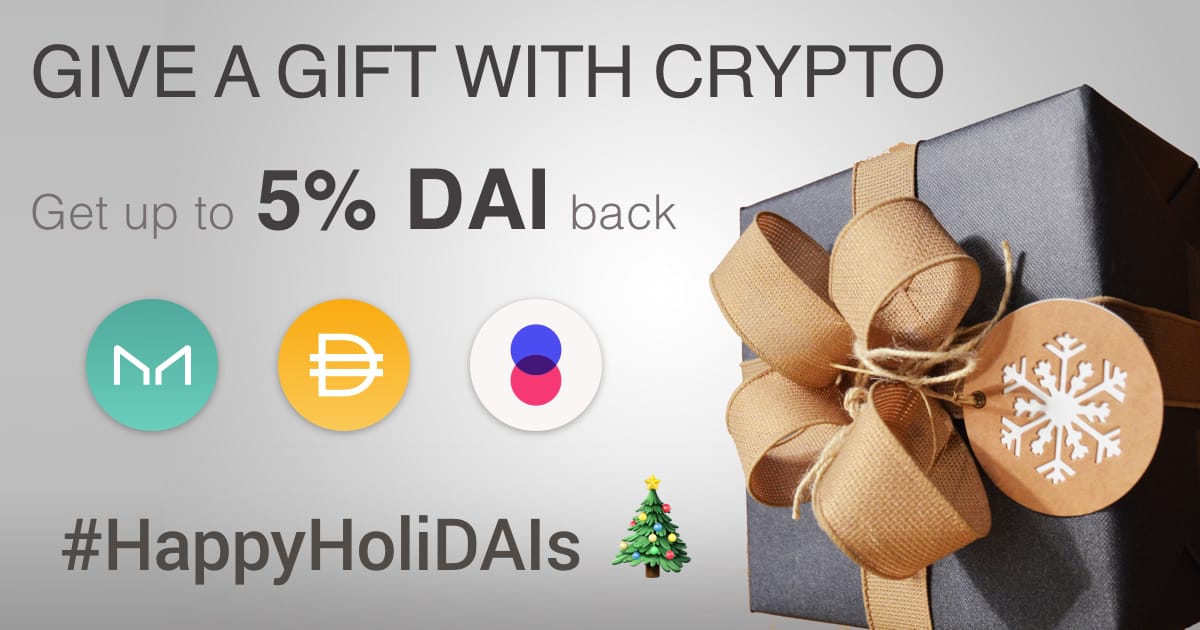 The holiday season is a time for celebrating your achievements, treating yourself a little bit, and enjoying the company of others.
It's been an incredible year for both Maker and Bidali.
At Bidali we were 1 of 27 companies accepted to Canada's top tier accelerator Creative Destruction Lab out of over 400 global blockchain companies that applied. We also grew our catalog of places to spend cryptocurrency from 150 to over 800 in 140 countries, added support for over 80 different cryptocurrencies, released our Commerce SDK and made tons of friends along the way. 😀
I led with our achievements first because the Maker team is a hard act to follow...
Maker grew to become a major industry presence and their DAI currency became one of the most used cryptocurrencies. They are easily the most successful algorithmic stable cryptocurrency, having reached more than $100 million worth of DAI issued, accounting for more than $339 million worth of Ether locked up as collateral! Recently they also successfully achieved a major upgrade to support the ability to collateralize DAI with more than one asset. It's hard to state how massive an achievement this is. Rune Christensen and the rest of the Maker team truly are pioneering the next generation of stable, decentralized money. 😍
To celebrate these milestones we wanted to do something special together, so over the holidays you can earn up to 5% DAI cashback whenever you purchase something via Bidali.
How It Works
Make a purchase at spend.bidali.com or through some of our wallet partners (Enjin, Trust Wallet, imToken, Coinomi).
You'll earn up to 5% cashback of your purchase value in DAI.
You will receive your DAI in the new year after the campaign is over on December 31st, 2019 11:59:59 pm PST. We will contact you via the email you used to purchase for your receiving address.
Note: The amount of cashback you receive will vary be based on the product or brand you purchased. For example, for Amazon.com you will earn 0.1% cashback, for The Gap you'll earn 5%. For most brands it will be in the 1% to 2% range.
So go ahead, pick up a last minute gift for a loved one, treat your friend and catch up over coffee, or splurge on something on Boxing Day and you'll earn DAI for each purchase. 🙌
#HappyHoliDAIs,
Eric & The Bidali Team 🎅
---
Are You an Innovative Business?
With Bidali you can offer cutting edge payment options, gift cards, and flexible incentive programs to customers all over the world. Using blockchain technology and artificial intelligence we eliminate fraud and high fees, reduce compliance costs and accounting headaches, while enabling businesses to reach customers all over the world. Sign up here to increase your online sales!
Unlock The Value of Your Crypto!
If you are looking for ways to spend your cryptocurrency you can use our e-commerce store to quickly convert it to gift cards and phone top ups at over 1,000 top brands around the world!
Are You a Wallet, Exchange or News Site?
We have over a dozen integration partners already working on integrating the new Commerce SDK to enable their users to spend directly from their platform. If you would like to encourage authentic adoption of cryptocurrency and earn money for purchases made by your users, partner with us.