Back to Blog
Buy with DAI
Posted by Eric Kryski on December 11th, 2018
The holiday season is a time for enjoying the company of others. Banding together.
Looking back on the year and celebrating how far you've come and where you want to be next year.
The cryptocurrency markets may have had a rough ride this year but not for the Maker team and their stable coin DAI. Their DAI cryptocurrency is pegged to the US dollar by using tokenized assets as collateral. All this runs on the Ethereum blockchain and even with the markets down over 85% since peak DAI has remained stable. Not only that, this year Maker's collateral system grew to be the most successful dApp on the Ethereum blockchain! This is truly impressive and is a testament to the system the Maker team has created. Our team at Bidali is very excited to see how the usage of DAI evolves over the coming months and years...
That's why we're extremely excited to announce that we've added support for the DAI stable coin to our payments platform - making us one of the first payment processors and liquidity providers for DAI in the world!
In addition, you can now use your DAI to buy gift cards from over 100 brand names, making it literally as good as the US dollar it is pegged to. This is quite simply the easiest way to spend your DAI. You can now easily pay for your Uber ride, take a flight across the globe, or simply enjoy a nice meal.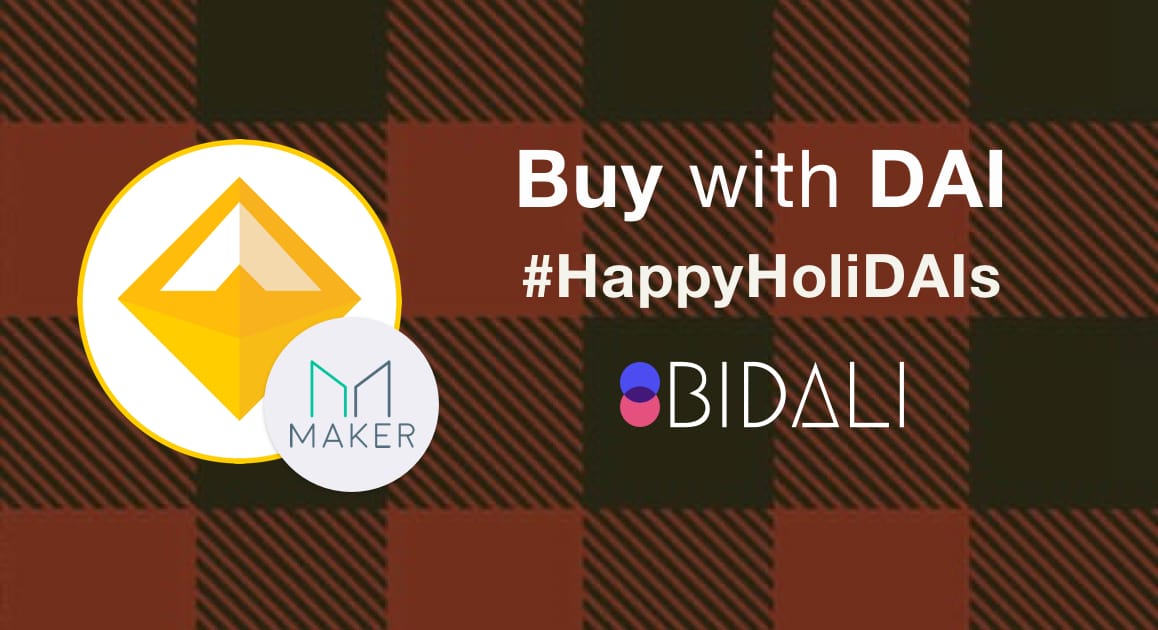 To celebrate we're collaborating with the Maker team on a holiday campaign running from December 11th to December 15th. If you transact with DAI and let them know you will have a chance to win a care package full of swag, including shirts, stickers, and a custom Maker Ledger Nano S. Simply tweet a transaction ID or screenshot of your purchase to @MakerDAO on twitter with the hashtag #HappyHoliDAIs and you're entered to win. They'll select a new winner every day and there is no limit to the amount of times you can enter. You can find more details about the contest on their official blog post.
If you buy a gift card from us using DAI we'll make sure to let them know that you are super awesome. 😉
---
We're very proud to support DAI. Buying gift cards with DAI may seem trivial but we have some big plans for DAI as a stable coin.
Removing the volatility of crypto is a major step towards mass adoption of cryptocurrencies. Rune Christensen and the rest of the Maker team have done something amazing by creating DAI. We're now taking the torch and will be working very hard along side them to make the usage and acceptance of DAI much easier. This is one more step towards financial inclusion and lowering the cost to transact all around the world.
Do You Sell Things?
Bidali enables merchants to sell products and services to anyone in the world for a fraction of the cost - without chargebacks, tax headaches, and volatility risk. Now your customer base is only limited to where you can ship. If you're interested in allowing people to use cryptocurrency to pay in your mobile app or website you can sign up here.