Back to Blog
Bidali Partners with Ding
Posted by Cory Smith on December 20th, 2019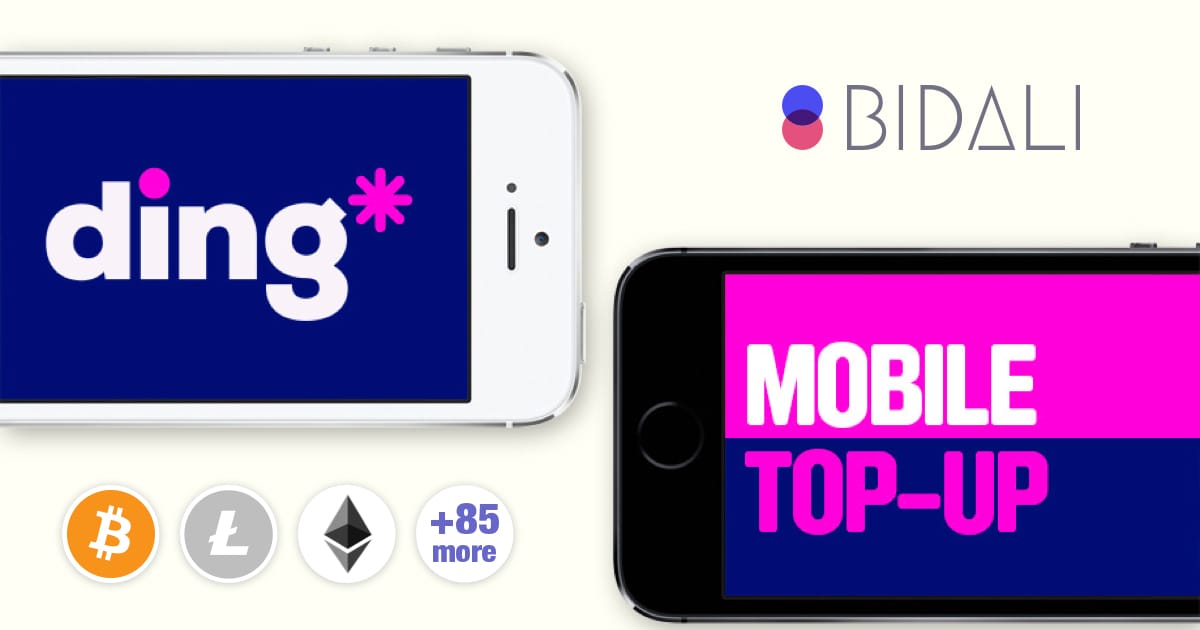 At Bidali we're on a mission "to create a safer, more inclusive global financial system". We think stable cryptocurrency will play an important role in this. However, the only way we'll get there is if you can actually use this next generation money to pay for real things.
This is what we're focused on and our recent partnership with Ding.com now enables millions of people around the world to use cryptocurrency to buy phone top ups and mobile data plans in almost every country on the planet.
Given the rise of mobile phone and mobile money adoption in Africa, Latin America and Southeast Asia, it's only natural that we allow people to pay for air time with cryptocurrency. It is a critical service in many countries, most notably in Kenya, where mobile phone credits is the dominant currency. With the proliferation of M-Pesa in Kenya it's clear emerging markets are going to leap frog the financial rails we have in North America and Europe. Our traditional definition of money is changing and we see cryptocurrency as the successor to mobile money solutions like M-Pesa due to it's increased security, auditability and interoperability.
About Ding
Ding was founded to change billions of lives by accelerating mobile access. As the number one international mobile top-up platform in the world, Ding has been keeping people connected since 2006, when it launched this first-of-a-kind service. Today, Ding's users have successfully sent over 300 million top-ups globally, via the app, online at Ding.com, and in-store at over 600,000+ retail outlets worldwide.
The number of prepaid mobile phones is growing and now accounts for 76% of the world's five billion phones, with one quarter offline and in need of top-up at any one time – highlighting the need for Ding's frictionless and instant mobile top-up. In fact, Ding delivers a top-up every second, via 500+ operators, across 140+ countries – helping families and friends around the world to stay connected.
Ding is headquartered in Dublin, Ireland, and has regional offices in Barcelona, Bucharest, Dhaka, Dubai, New Jersey, Miami, Paris, and San Salvador. Ding's culturally diverse team of more than 200 people reflects our commitment to delivering cutting-edge, potentially life-changing technology to developed and emerging markets alike.
About Bidali
Founded in early 2018, Bidali provides infrastructure that powers the next generation of money. By leveraging blockchain payment rails Bidali enables anyone with a smart phone to have a multi-currency bank account and accept low-cost digital currency payments from anywhere in the world.
Our CEO Eric, recently did an interview with Ding. It's a great way to learn more about what we're doing at Bidali, how we're leveraging blockchain technology to improve financial inclusion, and even learn a few personal details about Eric.
Until next time,
Cory & The Bidali Team
---
Unlock The Value of Your Crypto!
If you are looking for ways to off-ramp your crypto you can use our new crypto spending service to quickly convert your cryptocurrency to gift cards, phone top ups and pay bills at over 800 top brands around the world!
Are You a Wallet, Exchange or News Site?
We have over a dozen integration partners already working on integrating the new Commerce SDK. If you would like to encourage real adoption of crypto and earn money for purchases made by your users give us a holler.
Do You Sell Things?
Bidali enables merchants to sell products and services to anyone in the world for a fraction of the cost - without chargebacks, tax headaches, high exchange fees, and volatility risk. Now your customer base is only limited to where you can ship. If you want to give your customers the option to pay using next generation payment methods you can sign up here.