Back to Blog
Bidali has added support for Nimiq
Posted by Eric Kryski on May 30th, 2019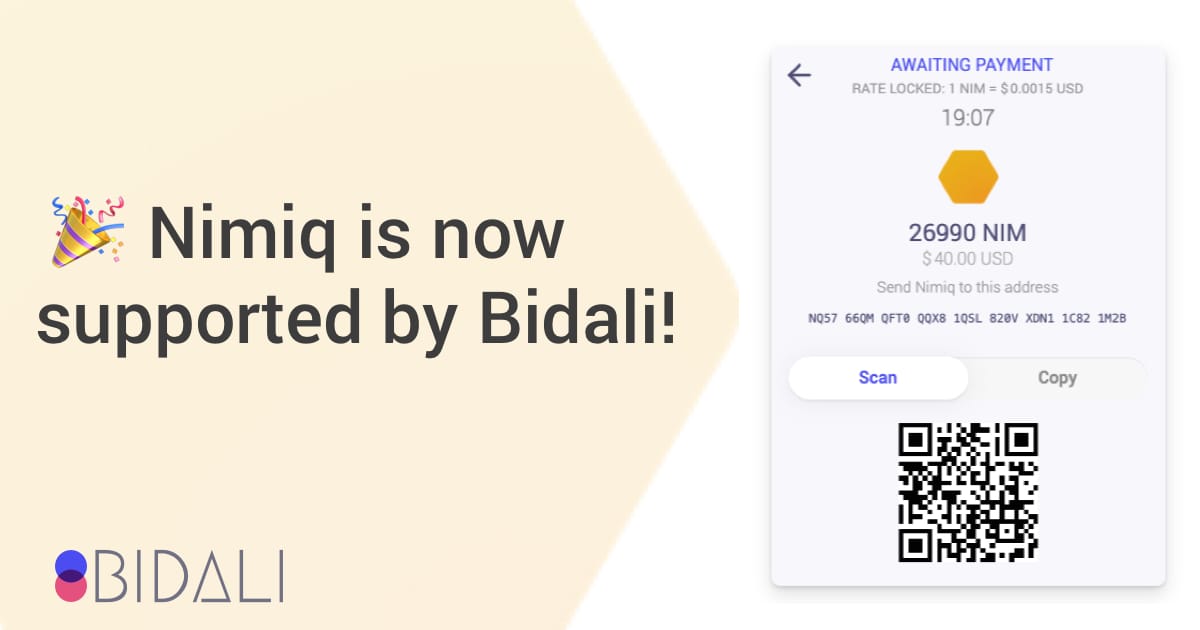 Today we're excited to officially announce support for Nimiq (NIM) as a payment method on our payments platform and our gift card service.
Starting today NIM holders can buy gift cards from over 150 top brands such as Amazon, Adidas, Ebay, Uber through our gift card platform! This allows the people who earn NIM to redeem the tokens for everything from diapers, to food, to travel, to renting a sports car. ✈️
In addition to being able to buy gift cards with NIM, now any online merchant will be able to utilize the Bidali online payment and accounting software to accept NIM with ease. Online retailers that accept NIM through our payment gateway will also have the option of being paid out in local currency including USD, CAD, Euro, and GBP and having their taxes and conversion rates automatically calculated.
What is Nimiq?
Nimiq is a browser-first blockchain designed with simplicity in mind. The community behind Nimiq hopes to bring the benefits of blockchain technology, low-cost peer-to-peer payments, to the mainstream. To achieve that goal Nimiq has been built from the ground up to reduce barriers to entry that typically inhibit the mainstream adoption of blockchain technologies, including making it incredibly easy to run your own blockchain node and miner to participate in the network.
Like Bitcoin and Ethereum, Nimiq currently uses a proof-of-work algorithm to secure transactions and NIM is the native currency used on the Nimiq blockchain for payments and as a reward incentive for mining.
However, one of the novel things they have done is make it so that anyone can easily run a blockchain node right in their web browser or on any machine that runs Node.js. One of the challenges that has inhibited adoption of cryptocurrency is the how complex it is to get set up, including setting up your own blockchain node so that you can transact with the network without needing to rely on a third party.
Most of the code is written in JavaScript so it can be run pretty much everywhere these days. Nimiq also utilizes modern peer-to-peer web standards (WebSockets + WebRTC) to communicate with other nodes on the network without relying on an intermediary.
Since pretty much every internet connected device has a web browser, this browser-first and installation-free approach has the potential to democratize access to the Nimiq blockchain, onboard users with less friction, and make it truly a more peer-to-peer payment rail.
We're very keen to see how the Nimiq project develops. Their attention to user experience and removing friction is evident everywhere in the project - from developer tooling, to marketing, to the user facing tools. We're proud to be one of the first in the world to support Nimiq and provide immediate utility for this promising payment rail. ⚡️
Until next time,
Eric & The Bidali Team
---
Are You an Innovative Business?
With Bidali you can offer cutting edge payment options, gift cards, and flexible incentive programs to customers all over the world. Using blockchain technology and artificial intelligence we eliminate fraud and high fees, reduce compliance costs and accounting headaches, while enabling businesses to reach customers all over the world. Sign up here to increase your online sales!
Unlock The Value of Your Crypto!
If you are looking for ways to spend your cryptocurrency you can use our e-commerce store to quickly convert it to gift cards and phone top ups at over 1,000 top brands around the world!
Are You a Wallet, Exchange or News Site?
We have over a dozen integration partners already working on integrating the new Commerce SDK to enable their users to spend directly from their platform. If you would like to encourage authentic adoption of cryptocurrency and earn money for purchases made by your users, partner with us.