Back to Blog
Bidali has added support for Nano
Posted by Eric Kryski on December 16th, 2019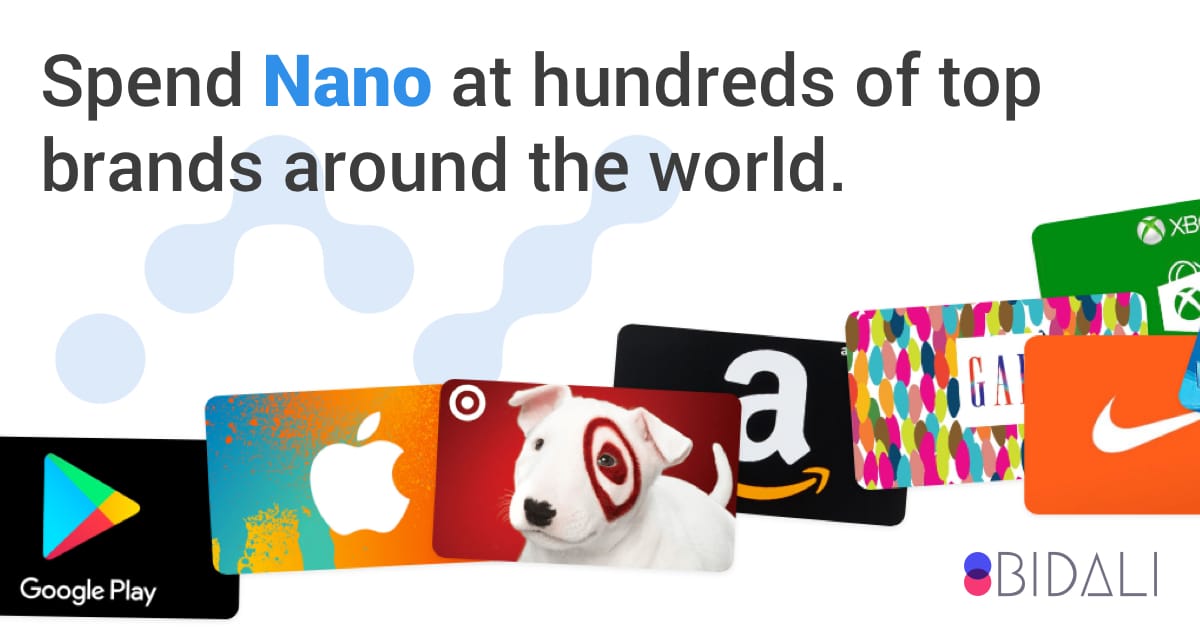 Today we're excited to officially announce support for Nano as a payment method on our payments platform and our crypto spending service.
Starting today Nano holders can buy gift cards from over 800 top brands such as Amazon, Adidas, Ebay, Uber through our gift card platform! This allows the people who earn Nano to redeem the tokens for everything from diapers, to food, to travel, to renting a sports car. ✈️
In addition to being able to buy gift cards with Nano, now any online merchant will be able to utilize the Bidali online payment and accounting software to accept Nano with ease. Online retailers that accept Nano through our payment gateway will also have the option of being paid out in local currency including USD, CAD, Euro, and GBP and having their taxes and conversion rates automatically calculated.
What is Nano?
Nano is a fast, low-cost cryptocurrency. Nano (previously known as RaiBlocks) has a novel architecture that utilizes proof of work for protection but gets low cost and scalability by creating a unique lattice structure that effectively enables everyone to have their own blockchain and record transactions with who they transact with. Their interesting approach enables low cost and fast transactions and I've personally been watching this project for quite some time so I'm very excited to finally have it integrated into Bidali's payments and commerce platform.
We're very keen to see how the Nano project develops. Their focus on low-cost, secure and fee-less payments is something we're very excited about and we're proud to be one of the first in the world to support Nano and provide immediate utility for this promising payment rail. ⚡️
Until next time,
Eric & The Bidali Team
---
Are You an Innovative Business?
With Bidali you can offer cutting edge payment options, gift cards, and flexible incentive programs to customers all over the world. Using blockchain technology and artificial intelligence we eliminate fraud and high fees, reduce compliance costs and accounting headaches, while enabling businesses to reach customers all over the world. Sign up here to increase your online sales!
Unlock The Value of Your Crypto!
If you are looking for ways to spend your cryptocurrency you can use our e-commerce store to quickly convert it to gift cards and phone top ups at over 1,000 top brands around the world!
Are You a Wallet, Exchange or News Site?
We have over a dozen integration partners already working on integrating the new Commerce SDK to enable their users to spend directly from their platform. If you would like to encourage authentic adoption of cryptocurrency and earn money for purchases made by your users, partner with us.